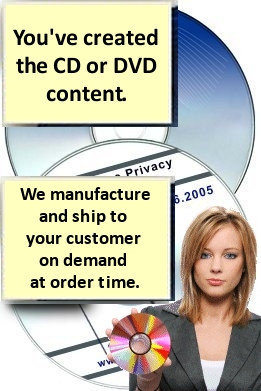 CD/DVD On Demand Publishing Service:
You've created the content for your CD or DVD. Now you need it produced and shipped when orders come in. TrepStar manufactures and ships your CD/DVD on demand, at order time. We ship to you or your customers one at a time, or in any quantity you choose.
TrepStar is what you're looking for if:
You don't want to manufacture your cd/dvd yourself.
You don't want to pay for hundreds or thousands of units in advance, and stock them yourself.
You don't want to deal with packaging and shipping your product for each customer that orders.
You don't want to deal with customer returns, or provide shipment tracking for each purchase.
You don't know how many your customers will purchase, so you want to order only when the customer wants them, and in the exact quantity they want, even if they order just one.
You want all this at a fair price.
The Process:
Customer orders Single or Multi Disc CD/DVD product from your website using your shopping cart or the TrepStar Cart.
We manufacture the CD/DVD for you on demand (just in time) when you order.
Manufactured, packaged, and shipped within 1-2 days after order is placed.
We ship USPS.com to anywhere in the world (more than UPS or FedEx).
See Video of product packaging, shipping, options, and quality.
Submit orders in two ways:
Wholesale Order System: If you already have a shopping cart or use Paypal or eBay you can use the TrepStar order form to start out, and later, automate the order process.
Retail Order System: Use our optional Buy Now Buttons. Place the buttons on your site. The customer clicks, and the order process is handled by the TrepStar purchase page/cart. TrepStar collects the money, deals with payment issues, manufactures, and ships your product for you. The fees are easy to understand.
No Risk:
Start free today:
No contracts to sign. No minimum quantity. You've published the content. Let us manufacture and ship your cd or dvd without any up front investment.
Flexible:
Drop ship to
Amazon
(instructions here)
or order a single quantity direct to your individual customers. There is no need to duplicate/replicate hundreds or thousands of units, warehouse them, ship them, or deal with any of the hundreds of issues related to manufacturing, shipping, returns, and support.
Best Quality at a Low Price:
Our mission is to provide the
highest quality service
at the
lowest price
for any quantity ordered.
Start Here

Click Here to watch a short introductory video that explains what this site can do for you.

Testimonials

Click Here to learn what other CD and DVD fulfillment customers are saying!
CD or DVD Manufacturing and Fulfillment On Demand Pricing - Only $1.30 per unit (any quantity) for a PREMIUM product.

For each order, we charge a base handling fee, and add postage. Example: $4.14 (total cost including shipping) for a single CD or DVD placed in a clear vinyl safety sleeve, packed in a lightweight mailer, and shipped to your individual customer (or yourself). Shipping occurs within 1 or 2 days from time of order. [show me samples]

CD/DVD Packaging options: Premium DVD case, CD case, or clear vinyl sleeve.
Example: $4.14 including shipping/handling (to addresses within the U.S.A) for our most economical package option (disc placed in clear vinyl sleeve similar to a Netflix mailer).
Our site is designed to help you send as few as one cd/dvd to your individual customer shipped to anywhere in the world. Shipping occurs within 1 or 2 days from time of order.
CD or DVD manufactured, printed in full color with a glossy finish, using only the highest quality materials.
We manufacture, package, add postage, and send on demand at order time. There is no inventory. This means no costly, time consuming up front investment for you, and no waste for us, which leads to a low unit cost.
Our Project Management System is fully automated. Configure everything yourself for free. Edit and change your projects at any time.
Because our site and manufacturing process is automated, you get a very low price even for very low quantities.
Handling and Postage Charges:

In the example listed above, handling and postage charges are included.
We charge a low unit cost, plus a base "per order" handling charge. Then, because package options, shipping method, and quantity is different for each order, we add a postage charge based on weight and package size.
Click here for exact pricing based on mail method, country, quantity, and packaging.

Included behind the scenes services:

Project Management: Our system lets you to modify and update your project at any time. You can start a project, and come back to it later. You can change a project even after you've started selling product. Most other project management systems are NOT editable. With those, you spend hours configuring and uploading your project only to find you've made a mistake, or want to change a minor detail (like changing a graphic). With those systems, you'll have to start over. With ours, you simply edit the project and make your change.
Real People Here to Support You: Some fulfillment companies act like machines and often don't respond to your email. We are more friendly. Contact us today.
Best Looking Discs and packaging: We offer the best quality full color, best looking, glossy, water resistant discs available. Our product looks as good or better than retail.
Package Undeliverable: We process mail package returns for you. Sometimes, the package comes back in the mail as undeliverable. We look up the customer, and send them an email requesting their correct address. This lets them know there will be a delay in shipment. When they email us back, we resubmit the order for you and resend the package.
Package Refused: If your customer refuses the package, we let you know (via email) we received it so you can process a refund in any way you like.
Package "Not Received Yet" Email: Some users email us saying they have not received the package. We look them up, and check the date the package was sent. We send them an email asking them to be patient and wait a few more days since sometimes the customer becomes impatient when the post office occasionally takes an unusually long amount of time to deliver.
Your Customer Product Support Email: We field support emails from your customers when we can. Often, when users have problems with the product, they resort to finding the package, and sending an email to us -- we forward those emails to you.

Learn More:

We offer a variety of packaging and shipping choices:


We are one of the only fulfillment companies that offer multi-disc set options:

Multi Disc Set Pricing Examples 1 - 18 discs.




Package your CDs or DVDs in sleeves, envelopes, DVD cases, and bubble mailers:


Our most common shipping options: