Publisher Testimonials:
Customer comments and reviews:
Peter
"I cannot remember any occasion on which I have had a problem with Trepstar. Setting the configuration for the product is logical and leaves nothing unconsidered. Trepstar burn-tests the flash drive to ensure that there are no errors, and does this within a day or two. When a flash drive is shipped Trepstar notifies the customer, and the progress of the shipment is reported right up to when it is delivered. I highly recommend Trepstar for production and shipping of CD-ROMs and flash drives."

Regards,

Peter (9/15/23)
Joshua

Thank you very much. I'm glad we have been able to answer your questions and assist with your FBA drop shipping to Amazon.
TrepStar Support (3/21/23)
Angelo
"I play tenor sax in the Norm Hathaway Big Band. We have played at all the major venues in the New York metropolitan area since 1999. I also am the business manager.

I recently ordered fifty CDs of our latest recording. In about a week I received fifty beautifully recorder CDs. The sound was of the highest quality. I played it at our last rehearsal and the band members were truly impressed by the professionalism of the recording. I highly recommend your services!"



Regards, Angelo (10/9/23)



Dean
"Where do you get your blank discs and Cases? They seem to be of high quality regardless, and the printing quality is even better than I'd hoped!"

Thanks!

Dean (2/18/23)
FYI: Dean, we use CMC Pro high gloss CDs/DVDs made in Taiwan using Taiyo Yuden technology. These are by far, the best in the industry. CMC Pro has licensed and uses the same technology and machines used by Taiyo Yuden (Japan). These are not the typical cheap discs with fuzzy UV cured disc printing that many other bulk duplicators use.
TrepStar Support (2/19/23)
Ryan G.
"The system has a lot of flexibility: You can create single disc or multi-disc projects with customized text on the invoices and packaging. You can customize the HTML header/footer on the web sales page and easily create a URL that generates a sales page for specific product collections. You can choose to subsidize shipping costs and you can offer discount sales codes. The process has a lot of documentation to help a new user."

Ryan G.
Annpu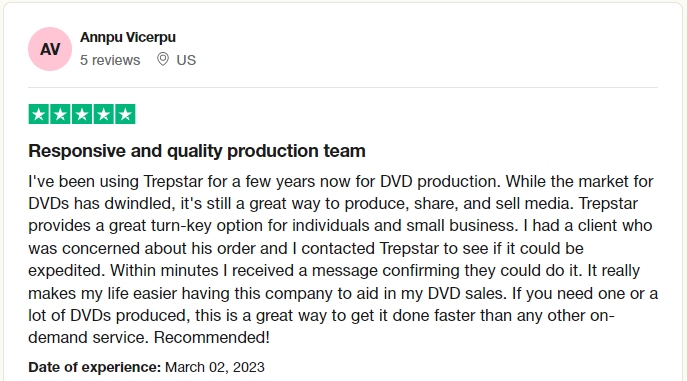 R. Phil.
"The product is gorgeous! Thank you again for this service and for your super work."

Phil.
Donna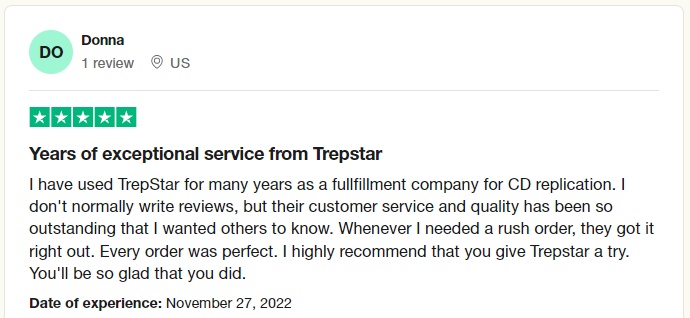 Roberta S.
"I'm starting a new adventure whereby I'm looking at increasing my sales this year and I have to tell you, I wouldn't be doing this venture if not for TrepStar. I'm SO proud of our products now--and apparently my customers LOVE the USBs.

I was showing off what we've accomplished through TrepStar yesterday, and it made me want to tell you how much this transfer from [our last fulfillment company] to you has meant to our little company."

Thank you, Patrick and Carla.

Roberta S.
Rick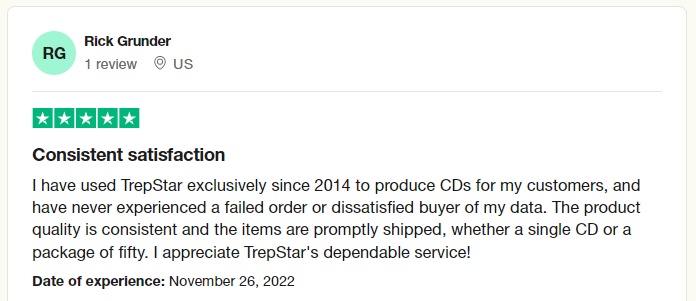 Alexis M.
"Thank you for always being so helpful. TrepStar has been a great company to work with and you personally are always quick to assist/solve."

Kindly,

Alexis.
Karine

Michael G.
"Patrick, I have been meaning to write and let you know how much I appreciate your product. It's so easy for me to make orders, small orders and economical as well. Your concept really works well for me. Just wanted to let you know. Keep up the good work."

Michael G.
Andrea S.
"I know now why star is part of your name. My order shined in here at 10:30 this morning, on my 72nd birthday. Woo hoo! All set for my presentation on Tuesday morning. Courtesy of Mark and Tina F. I am so thrilled to be your client."

Andrea S.
Jay

David S.
"Love your system... Just a thankful note that it's working great and has made my life a lot easier."

Dave.
Joshua H.
"Great. Thanks for the follow up. Is there anywhere on the web that you guys need positive reviews? I'd be happy to give my feedback... great experience all around, you guys rock!"

Joshua Haug Technology Consulting
Audrey F.
"Hi Trepstar wonders,

Thank you so much for all the help and immediate feedback on my 9 projects under my account. Using your templates, most of the designs came out correctly the first time.

However, on the projects that had errors, I was able to modify the length of my CD playing time, and the images for my front and back covers instantly, once I received your feedback. I am amazed at your helpfulness and your instant feedback. You made this process so easy and accessible for even a novice like me.

What a pleasure it has been to do business with you. I can't wait to receive this next order!"

Very sincerely,

Audrey, Ph.D.
Paul

Michael K.
"Thank you, Patrick!

This is my first experience using your company. I love the concept and the level of detail you have put into this process. The CD I recently produced has worked beautifully and I hope that we can get the DVD out soon! Thanks!"

Michael K.




Bob R.
"I got the DVD today, checked it out and am very happy with it."

Bob, R.
Jon O.
"I got my first CD from you guys today - UFOverdriver - Grand Deception Star. Very nice! Very Impressed!"

Jon, O.
Rick B.
"I received the 1st Copy of my CD. Very Professional! The Front Cover Art is as Good as it can get I believe. The CD itself is AMAZING! Thank You!!! It came out exactly how i want it with no errors!"

Rick B.
Former SwiftCD customer
"You'd probably appreciate knowing that SwiftCD is falling apart as a company, since Digital River bought them out. I suspect all the owners have left, and DR is running the place via contractors (inferred from e-mails, and terrible support and delivery of orders.) A good opportunity for your company to pick up business. DR is forcing all SwiftCD customers to recreate their complete accounts from scratch in their 'new' system (no products brought over! and questionable if the automated XML order system will work right!)" TrepStar is a great alternative to swiftcd.

Anonymous




Salvador.
"I have received the sample and its gorgeous! Tested it in 4 DVD players and works perfectly."

Salvidor L.
Dan P.
"After a continuing decline of bad service, and lost or delayed orders with my prior CD fulfillment provider, I decided to switch to TrepStar. Their system is feature rich, and easy to use and setup."

Dan P.
Norm L.
"The service at TrepStar is quite good. Their automated systems to receive orders, produce the CDs and ship them is done in a very timely manner with a 99.9% success rate. When it comes to the automated systems, TrepStar provides excellent service and it is definitely their strong point."

Norm L. LG Software Innovations
Ronnie N.
"You guys rock - easy to recommend you. And I'll be recommending you to a ton more small businesses in the coming months. :)"

Ronnie N. www.plr.me
Yara D.
"I fully understand your system and I prefer it over all and any other cd fulfillment company. I have been using your service for about 2 years now and I can say one thing: It rocks. In addition to great service, there is also a great customer support."

Yara D. EBooksBazaar
Carol S.
"By the way, thanks so much the discount for the two CDs ($50 for 2) MUCH appreciated! Once again, the DVD looks fantastic, better then I expected. I will be placing the ad for this project and hopefully, we can start making some money!!"

Carol S.
Keith P.
"First, let me say that my sample order arrived today. It's stunningly beautiful. Highly professional. It would look right at home on any store shelf. And, the price is unbelievable low! (But, please don't raise them!!). Thanks so much!"

Keith P. zMagic Solutions
Alvin L.
"We've invested heavily into our brain entrainment technology, and having a reliable fulfillment company is of the utmost importance to us. After searching around for CD fulfillment companies, we found that TrepStar to be one of the best in terms of pricing and integration options. We're working with a third-party shopping cart option, and TrepStar has provided 2 ways to integrate with their solution - a URL-based server call and an email-based option. We're very happy with TrepStar's service and we're glad to say that they take great care of their customers."

Alvin. MindMaximus.com
Mark R.
"TrepStar Writes:"

Did you get the samples?

Yes i got the 2 on Saturday and they look fantastic

I like the smaller one better!....easier to manage if i go to a show to sell some."

Mark R.
Gregory K.
"Hi David,

My name is Gregory, I'm the President of LG Software Innovations. I can vouch for TrepStar.com. We have been using [cd fulfillment] service for a couple of years now. I'm very happy with his service and he takes care of his customers. I had some special interface requirements to work with our server and he was happy to accommodate my requirements. He does a good job of ensuring the customer gets the disc without damage, which is important to us.

If you have any other questions, just let me know.

Regards,

Gregory K. LG Software Innovations
Mark R.
"Patrick, I am sending you all the rest of my masters. We are going to do all our business with you. Just found out CustomFlix raised their fees without telling us in June from 5% to 15% PLUS the cost of each DVD. You need to make this part of your marketing and do a direct comparison and take some of their business."

Thanks"

Mark R.
Dennis L.
"Hey There!

I have to say, even though we didn't sell many of the Net Biz 6 piece CD set, the quality was amazing! Our customers raved about it to us. So thank you for that project! ... Again, thanks for the great service, if I can write a testimonial for you, just ask. I've recommended your service to many people...hope they started using you!"

Dennis L. NetBizRadio.com
Misty R.
"Hi Patrick,

We thank you so very much with your help on this problem. We have enjoyed working with your company very much. I have to say you are most helpful and answer so quickly.

Thanks,"

Misty R.
Steve L.
"I have no problem recommending your service to anyone. I think it is second to none and the turn-around time for dispatching the CD's is minimal. I have had no complaints or negative feedback from any of my Publishers. You have a fantastic business and I wish you the very best in the times ahead."

Thank you Patrick

Steve L.